Burner Components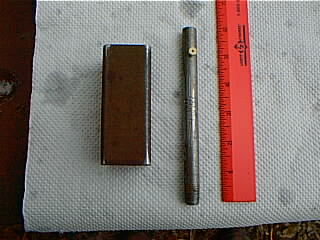 Here are the parts for the burner.
1 piece 1.5" square tube x 3.25 long
1 piece 1/4" black pipe x 6" to 10" long
you can drill the pipe with a #53 (.059") or I use a brass pipe plug with a 10-32 thread
the brass will not corrode like the steel pipe does and can be replace if needed.
---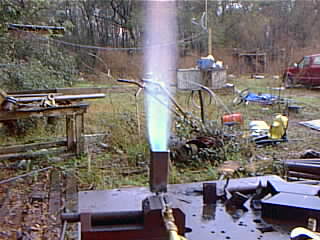 Here is the burner on it's test burn. Good clean blue flame
---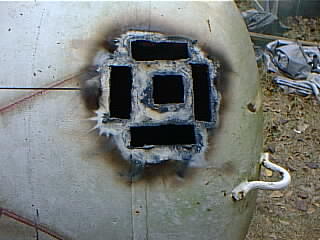 This is the cut outs I make to weld the burner in. The square hole in the center is for the burner and the others are for air. They are about 1" x 3"
---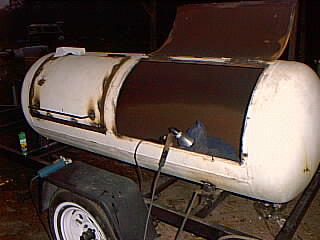 This is a 250 gallon propane tank. There will be a firebox and a vertical chamber.
---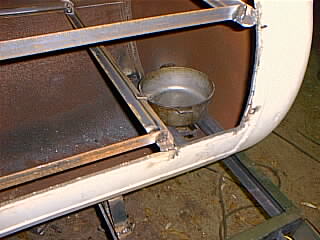 Here the burner has been welded in the tank and the shelf brackets and frames have been installed. The wood goes in the pot.
---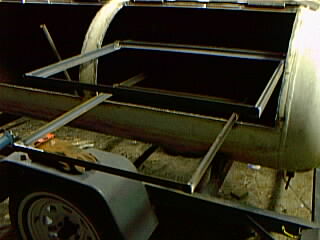 Slide out shelves. The other opening gets the same arrangement except that the bottom shelf is full width. There are two 32" wide x 26" deep shelves. one 32" x 28" and one 24" x 28" shelves. It will also have 2 28" diameter revolving shelves in the vertical.
---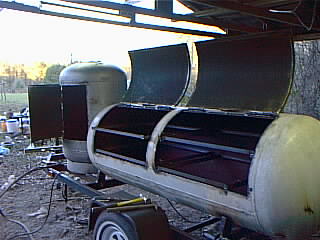 Here the vertical has been added
---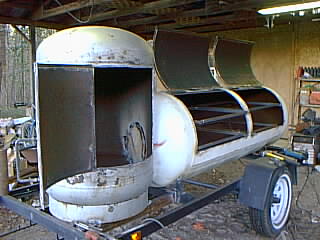 Another view, no shelves in the vertical yet.
Will have a total of 33.5 square feet of grill area
---